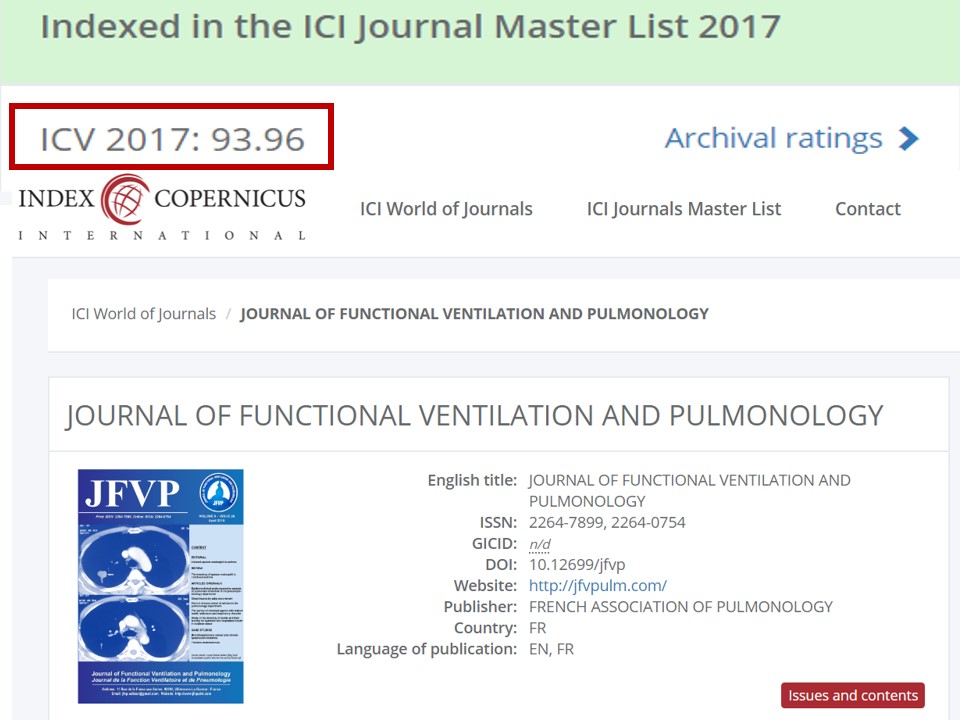 (English Version)
Aim and Scope
JFVP – Journal of Functional Ventilation and Pulmonology is a peer reviewe journal publishing every four month in print and online versions without article processing charge (APC) for articles accepted to be published before 12/2021 and with APC for articles being accepted to be published after 12/2021 (depending on country incomes). The journal accepts research works from scholars, academicians, professors, doctorates, lecturers, physicians. The journal serves the research world since August, 2010. The journal is wide and available for diverse intellectual and educational pursuit from all corners of the respiratory society to enrich the learning experience of the group readers. The primary goal of this open access online journal is to publish original research papers in all the subjects of respiratory diseases. It intends to publish 3 issues a year and is currently accepting manuscripts. All manuscripts including reviews will be subjected to peer review and published online every 15th Day of the Month after acceptance. The Journal is registered with French National Library, having ISSN registration number 2650 - 1988 for Print version and ISSN 2650 - 3506 for online version.

High visibility
JFVP has open access policy allows maximum visibility of articles published in the journal as they are available to a wide, global audience. Articles that have been especially highly accessed are highlighted with a Highly accessed graphic, which appears on the journals contents pages and search results.
Speed of Publication and Flexibility
JFVP offers a fast publication schedule whilst maintaining rigorous peer review; all articles must be submitted online, and peer review is managed fully electronically (articles are distributed in PDF form, which is automatically generated from the submitted files). Articles will be published with their final citation after acceptance, in both fully browsable web form, and as a formatted PDF.
Print and online publication in JFVP gives authors the opportunity to publish large datasets, large numbers of color illustrations and moving pictures, to display data in a form that can be read directly by other software packages so as to allow readers to manipulate the data for themselves, and to create all relevant links (for example, to PubMed, to sequence and other databases, and to other articles).
Experiences of Editorial Board Members
Our Editorial board members having many years of rich experience in scholarly publishing in respiratory diseases (European Respiratory Journal) and some other peer review journals.
Conflit of Interest
Authors are responsible for recognizing and disclosing financial and other conflicts of interest that might bias their work. They should acknowledge in the manuscript all financial support for the work and other financial or personal connections to the work. Public trust in the peer review process and the credibility of published articles depend in part on how well conflict of interest is handled during writing, peer review, and editorial decision making. Conflict of interest exists when an author (or the authors institution), reviewer, or editor has financial or personal relationships that inappropriately influence (bias) his or her actions (such relationships are also known as dual commitments, competing interests, or competing loyalties). These relationships vary from those with negligible potential to those with great potential to influence judgment, and not all relationships represent true conflict of interest. The potential for conflict of interest can exist whether or not an individual believes that the relationship affects his or her scientific judgment. Financial relationships (such as employment, consultancies, stock ownership, honoraria, paid expert testimony) are the most easily identifiable conflicts of interest and the most likely to undermine the credibility of the journal, the authors, and of science itself. However, conflicts can occur for other reasons, such as personal relationships, academic competition, and intellectual passion.
Copyright Assignment and Advertising
Papers are accepted for publication on the understanding that exclusive copyright in the paper is assigned to the Publisher. Authors are asked to sign a copyright assignment form after acceptance of their papers.
All advertisements and commercially sponsored publications are independent from editorial decisions. JFVP does not endorse any product or service marked as an advertisement or promoted by a sponsor in JFVP publications. Editorial content is not compromised by commercial or financial interests, or by any specific arrangements with advertising clients or sponsors. JFVP will not accept advertising for products or services known to be harmful to health (e.g. tobacco products). Once an advertisement has been deployed online, it will be withdrawn from the journal site at any time if the Editor(s)-in-Chief or Publisher requests its removal. JFVP will not allow any treatment-specific or drug-specific campaign to be targeted to a specific article(s) or on any page where content relates to the product(s) being advertised.
(Version Francaise)
Objective et Vision
JFVP - Journal de la Fonction Ventilatoire et de Pulmonologie est un journal de relecture par les pairs publié tous les quatre mois dans les versions imprimées et en ligne sans frais de submission. Ce journal accepte des travaux de recherche d'universitaires, académiques, de professeurs, de doctorats, de conférenciers, de médecins. Le journal est au service du monde de la recherche depuis août 2010. Le journal est vaste et disponible pour diverses activités intellectuelles et éducatives de tous les coins de la société respiratoire pour enrichir l'expérience d'apprentissage des lecteurs du groupe. L'objectif principal de ce journal en ligne en libre accès est de publier des articles de recherche originaux sur tous les sujets des maladies respiratoires. Il a l'intention de publier 3 numéros par an et accepte actuellement les manuscrits. Tous les manuscrits, y compris les critiques, feront l'objet d'un examen par les pairs et seront publiés en ligne tous les 15 jours après leur acceptation. Le Journal est enregistré auprès de la Bibliothèque nationale de France sous le numéro d'enregistrement ISSN 2264-7899 pour la version imprimée et ISSN 2264-0754 pour la version en ligne.
Haute Visibilité
JFVP a une politique d'accès ouvert qui permet une visibilité maximale des articles publiés dans le journal tels qu'ils sont disponibles pour un large public mondial. Les articles qui ont été particulièrement consultés sont mis en évidence à l'aide d'un graphique accessible à tous, qui apparaît sur les pages de contenu des revues et les résultats de recherche.
Vitesse de Publication et Flexibilité
JFVP offre un calendrier de publication rapide tout en maintenant un examen rigoureux par les pairs; tous les articles doivent être soumis en ligne, et l'examen par les pairs est géré entièrement par voie électronique (les articles sont distribués sous forme de PDF, qui est automatiquement généré à partir des fichiers soumis). Les articles seront publiés avec leur citation finale après acceptation, dans un formulaire Web entièrement navigable, et sous forme de fichier PDF formaté.
La publication imprimée et en ligne dans JFVP donne aux auteurs la possibilité de publier de grands ensembles de données, un grand nombre d'illustrations en couleur et des images animées pour afficher les données sous une forme directement lisible par d'autres progiciels pour permettre aux lecteurs de manipuler les données , et de créer tous les liens pertinents (par exemple, à PubMed, à la séquence et d'autres bases de données, et à d'autres articles).
Expériences des membres du comité de rédaction
Nos Membres du Comité de Rédaction ont de nombreuses années d'expérience dans la publication savante dans les maladies respiratoires (European Respiratory Journal) et d'autres revues spécialisées.
Conflit d'intérêt
Les auteurs sont responsables de la reconnaissance et de la divulgation des conflits d'intérêts financiers et autres qui pourraient influencer leur travail. Ils doivent reconnaître dans le manuscrit tout le soutien financier pour le travail et d'autres liens financiers ou personnels à l'œuvre. La confiance du public dans le processus d'examen par les pairs et la crédibilité des articles publiés dépendent en partie de la façon dont les conflits d'intérêts sont traités lors de la rédaction, de l'examen par les pairs et de la prise de décisions éditoriales. Un conflit d'intérêts existe lorsqu'un auteur (ou l'institution auteur), un réviseur ou un éditeur a des relations financières ou personnelles qui influent de manière inappropriée (biais) sur ses actions (ces relations sont également appelées doubles engagements, intérêts concurrents ou loyautés concurrentes). Ces relations varient de celles qui ont un potentiel négligeable à celles qui ont un grand potentiel d'influencer le jugement, et toutes les relations ne représentent pas un véritable conflit d'intérêts. Le risque de conflit d'intérêts peut exister, qu'un individu pense ou non que la relation affecte son jugement scientifique. Les relations financières (telles que l'emploi, les consultants, l'actionnariat, les honoraires, les expertises rémunérées) sont les conflits d'intérêts les plus facilement identifiables et les plus susceptibles de miner la crédibilité de la revue, des auteurs et de la science elle-même. Cependant, des conflits peuvent survenir pour d'autres raisons, telles que les relations personnelles, la compétition académique et la passion intellectuelle.

Attribution de Droits d'Auteur et Publicité
Les articles sont acceptés pour publication, étant entendu que le copyright exclusif de l'article est attribué à l'éditeur. Les auteurs sont invités à signer un formulaire de cession des droits d'auteur après acceptation de leurs articles.
Toutes les publicités et publications commerciales sont indépendantes des décisions éditoriales. JFVP ne cautionne aucun produit ou service marqué comme une publicité ou promu par un sponsor dans les publications JFVP. Le contenu éditorial n'est pas compromis par des intérêts commerciaux ou financiers, ou par des arrangements spécifiques avec des clients publicitaires ou des sponsors. JFVP n'acceptera pas de publicité pour des produits ou services connus pour être nocifs pour la santé (par exemple les produits du tabac). Une fois qu'une publicité a été déployée en ligne, elle sera retirée du site du journal à tout moment si le (s) Rédacteur (s) en Chef ou l'éditeur demande son retrait. Le JFVP n'autorisera aucune campagne spécifique au traitement ou spécifique à un médicament à cibler un ou des articles spécifiques ou sur toute page où le contenu se rapporte au (x) produit (s) faisant l'objet de la publicité.