JOURNAL OF FUNCTIONAL VENTILATION AND PULMONOLOGY [Journal de la Fonction Ventilatoire et de Pneumologie]. VOLUME 10 - 2019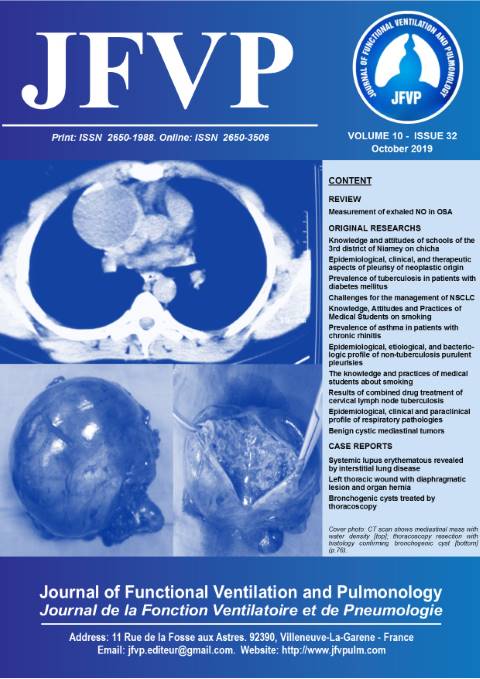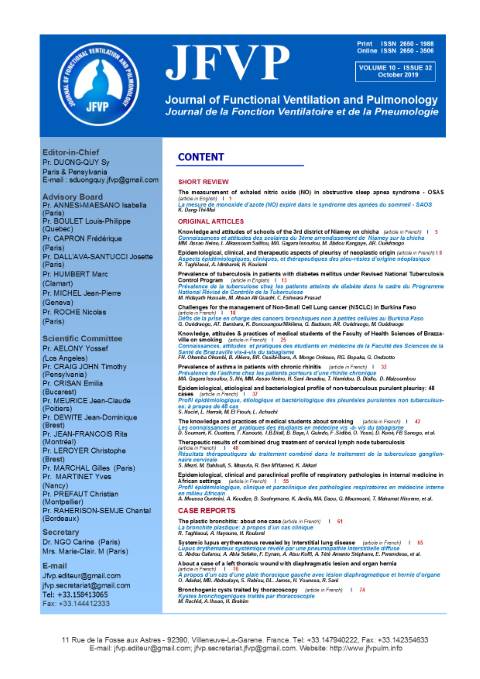 CONTENT OF JFVP - ISSUE 32, VOLUME 10 - 2019
Cover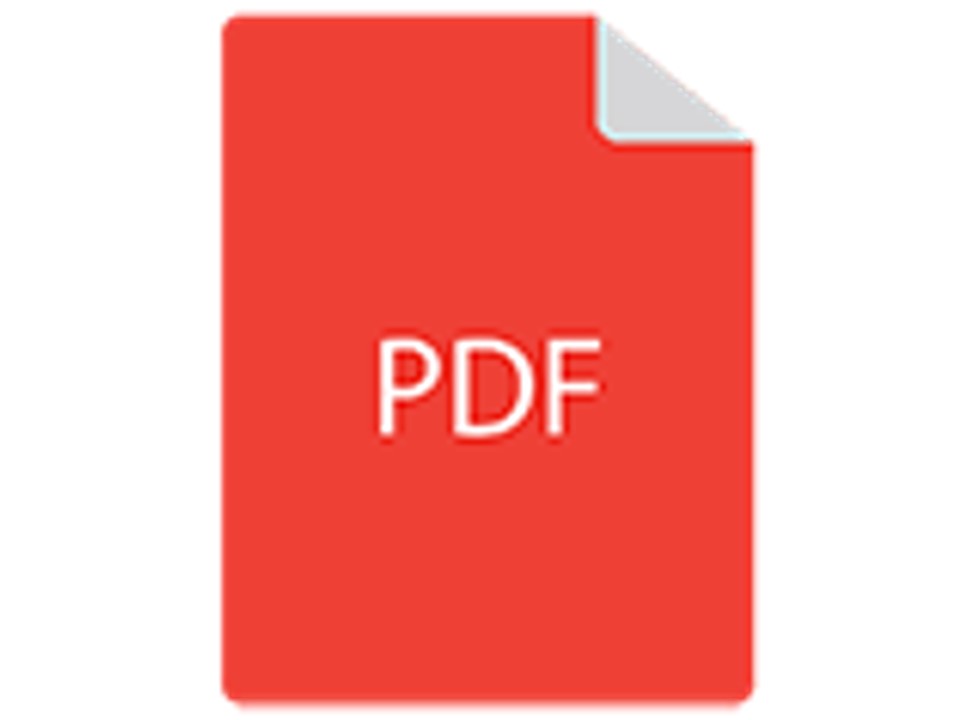 Content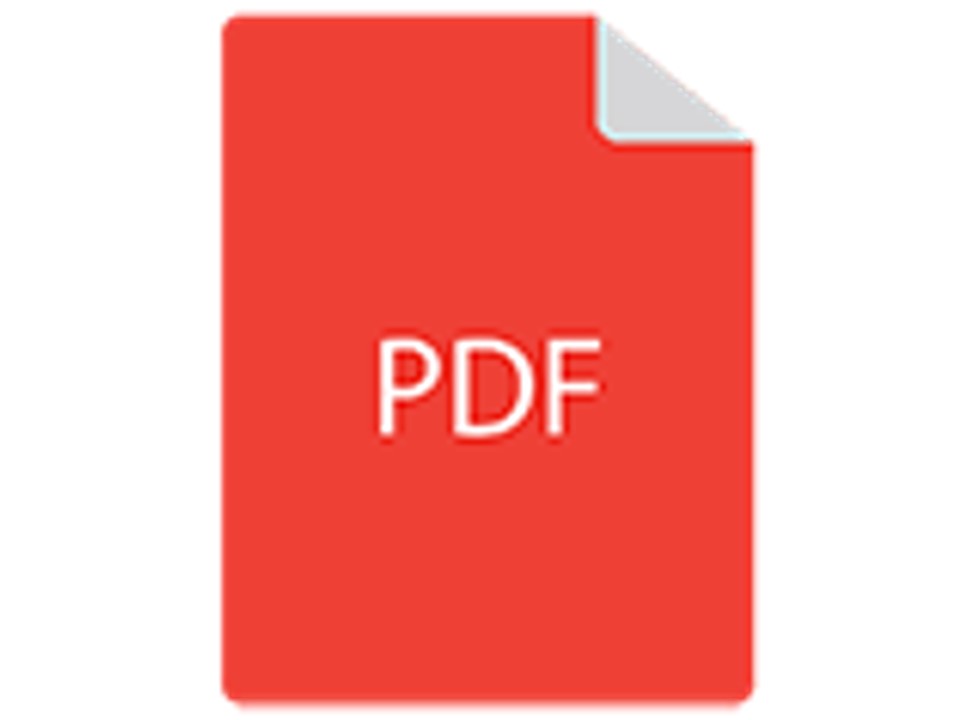 SHORT REVIEW
The measurement of exhaled nitric oxide (NO) in obstructive sleep apnea syndrome - OSAS
(article in English) l 1
La mesure de monoxide d'azote (NO) expiré dans le syndrome des apnées du sommeil - SAOS
K. Dang-Thi-Mai
ORIGINAL ARTICLES
Knowledge and attitudes of schools of the 3rd district of Niamey on chicha (article in French) l 5
Connaissances et attitudes des scolaires du 3ème arrondissement de Niamey sur la chicha
MM. Assao Neino, I. Alkassoum Salifou, MA. Gagara Issoufou, M. Abdou Kangaye, AR. Ouédraogo
Epidemiological, clinical, and therapeutic aspects of pleurisy of neoplastic origin
(article in French) l 8
Aspects épidémiologiques, cliniques, et thérapeutiques des pleu-résies d'origine néoplasique
R. Taghilaoui, A. Idmbarek, H. Kouismi
Prevalence of tuberculosis in patients with diabetes mellitus under Revised National Tuberculosis Control Program (article in English) l 13
Prévalence de la tuberculose chez les patients atteints de diabète dans le cadre du Programme National Révisé de Contrôle de la Tuberculose.
M. Hidayath Hussain, M. Ahsan Ali Quadri, C. Eshwara Prasad
Challenges for the management of Non-Small Cell Lung cancer (NSCLC) in Burkina Faso
(article in French) l 18
Défis de la prise en charge des cancers bronchiques non à petites cellules au Burkina Faso
G. Ouédraogo, AT. Bambara, K. Boncoungou/Nikièma, G. Badoum, AR. Ouédraogo, M. Ouédraogo
Knowledge, attitudes & practices of medical students of the Faculty of Health Sciences of Brazzaville on smoking (article in French) l 25
Connaissances, attitudes et pratiques des étudiants en médecine de la Faculté des Sciences de la Santé de Brazzaville vis-à-vis du tabagisme
FH. Okemba Okombi, B. Akiera, BR. Ossibi-Ibara, A. Mongo Onkouo, RG. Bopaka, G. Ondzotto
Prevalence of asthma in patients with chronic rhinitis (article in French) l 32
Prévalence de l'asthme chez les patients porteurs d'une rhinite chronique
MA. Gagara Issoufou, S. Illé, MM. Assao Neino, H. Sani Amadou, T. Hamidou, B. Diallo, D. Maizoumbou
Epidemiological, etiological and bacteriological profile of non-tuberculous purulent pleurisy: 48 cases (article in French) l 37
Profil épidémiologique, étiologique et bactériologique des pleurésies purulentes non tuberculeuses: à propos de 48 cas. S. Naciri, L. Herrak, M. El Ftouh, L. Achachi
The knowledge and practices of medical students about smoking (article in French) l 42
Les connaissances et pratiques des étudiants en médecine vis -à- vis du tabagisme
D. Soumaré, K. Ouattara, T. Kanouté, I.B.Diall, B. Baya, I. Guindo, F .Sidibé, O. Yossi, D. Koné, FB Sanogo, et al.
Therapeutic results of combined drug treatment of cervical lymph node tuberculosis
(article in French) l 48
Résultats thérapeutiques du traitement combiné dans le traitement de la tuberculose ganglionnaire cervicale. S. Mezri, M. Bahlouli, S. Mnasria, R. Ben M'Hamed, K. Akkari
Epidemiological, clinical and paraclinical profile of respiratory pathologies in internal medicine in African settings (article in French) l 55
Profil épidémiologique, clinique et paraclinique des pathologies respiratoires en médecine interne en milieu Africain
A. Moussa Ounteini, A. Koudize, B. Suoleymane, K. Andia, MA. Daou, G. Moumouni, T. Mahamat Hissene, et al.
Benign cystic mediastinal tumors (article in French) l 61
Tumeurs bénignes kystiques du médiastin
S. Rabiou, H. Harmouchi , M. Lakranbi, Y. Ouadnouni, H. El Fatemi, M. Serraj, M. Smahi
CASE REPORTS
Systemic lupus erythematous revealed by Interstitial lung disease (article in French) l 66
Lupus érythémateux systémique révélé par une pneumopathie interstitielle diffuse
G. Abdou Gafarou, A. Abla Sefako, F. Eyram, A. Atsu Koffi, A. Tétè Amento Stéphane, E. Pwemdeou, et al.
About a case of a left thoracic wound with diaphragmatic lesion and organ hernia
(article in French) l 71
A propos d'un cas d'une plaie thoracique gauche avec lésion diaphragmatique et hernie d'organe
O. Adakal, MB. Abdoulaye, S. Rabiou, DL. James, H. Younssa, R. Sani
Bronchogenic cysts traited by thoracoscopy (article in French) l 75
Kystes bronchogeniques traités par thoracoscopie
M. Rachid, A. Ihsan, H. Brahim