JOURNAL OF FUNCTIONAL VENTILATION AND PULMONOLOGY [Journal de la Fonction Ventilatoire et de Pneumologie]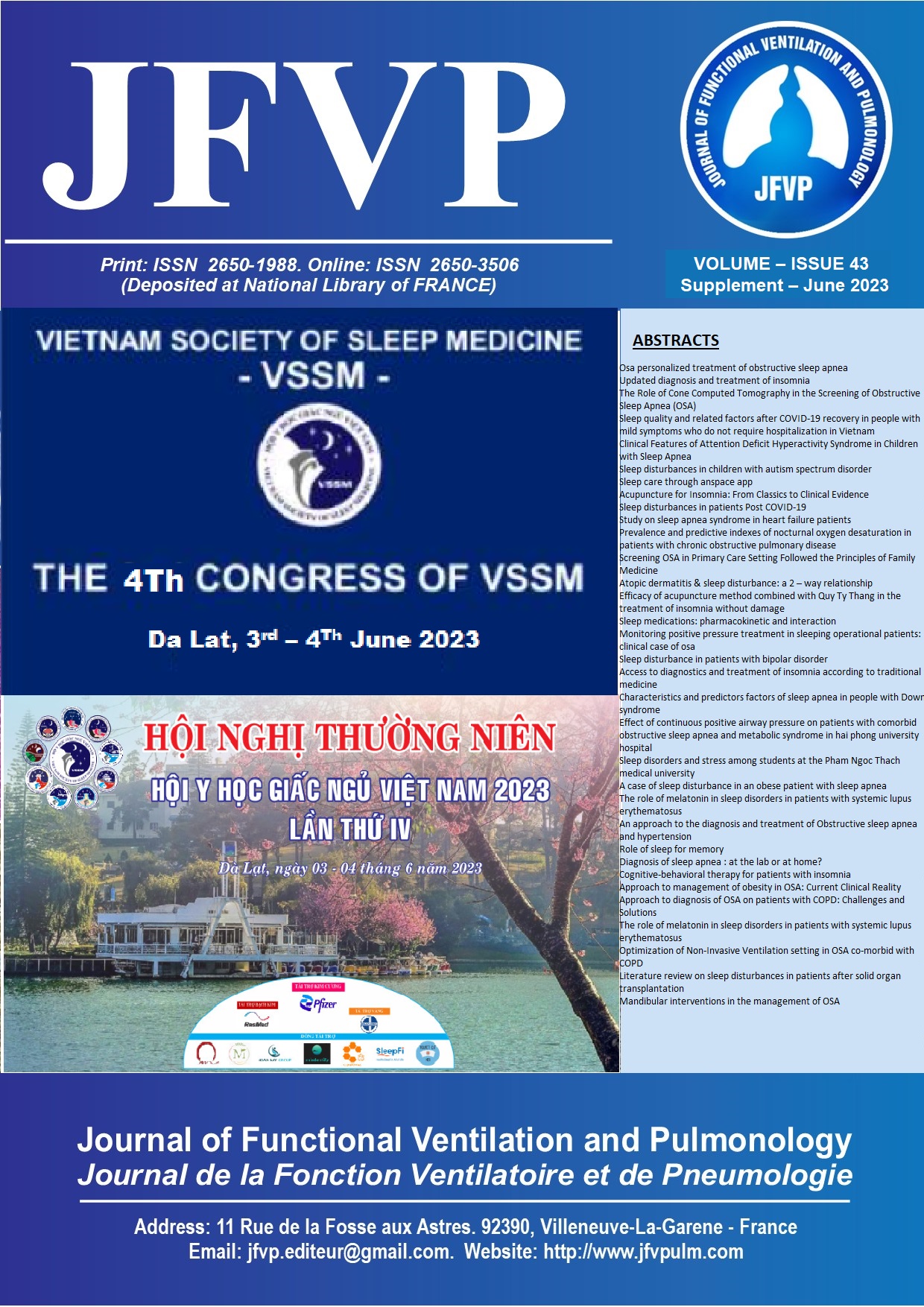 CONTENT OF JFVP 43 SUPPLEMENT
Abstracts of the 4th Congress of VSSM

Osa personalized treatment of obstructive sleep apnea
Osa traitement personnalisé de l'apnée obstructive du sommeil
S. Duong-Quy
Updated diagnosis and treatment of insomnia
Diagnostic et traitement actualisés de l'insomnie
S. Duong-Quy
The Role of Cone Computed Tomography in the Screening of Obstructive Sleep Apnea (OSA)
Le rôle de la tomodensitométrie conique dans le dépistage de l'apnée obstructive du sommeil (OSA)
P. Lam Dai
Sleep quality and related factors after COVID-19 recovery in people with mild symptoms who do not require hospitalization in Vietnam
Qualité du sommeil et facteurs associés après la guérison du COVID-19 chez les personnes présentant des symptômes légers qui ne nécessitent pas d'hospitalisation au Vietnam
H. Hoang Thi Xuan, Yeng Wing-Fai , Q.Truong Thi Mai, C. Le Thi, A. Bui Thi My, L. Quach Ha
Clinical Features of Attention Deficit Hyperactivity Syndrome in Children with Sleep Apnea
Caractéristiques cliniques du syndrome d'hyperactivité avec déficit de l'attention chez les enfants souffrant d'apnée du sommeil
L. Nguyen Ngoc Quynh
Characteristics of sleep disorders in children with attention deficit hyperactivity disorder
Caractéristiques des troubles du sommeil chez les enfants avec un trouble d'hyperactivité avec déficit de l'attention
M. Nguyen Thi Phuong, M. Nguyen Thi Thanh, S. Duong Quy
Sleep disturbances in children with autism spectrum disorder
Troubles du sommeil chez les enfants atteints de trouble du spectre autistique
H. Tran Thi Ngoc
Sleep care through anspace app
Soins du sommeil via l'application anspace
C. Nguyen Thi Minh
Acupuncture for Insomnia: From Classics to Clinical Evidence
Acupuncture pour l'insomnie : des classiques aux preuves cliniques
D. Nguyen Van
Sleep disturbances in patients Post COVID-19
Troubles du sommeil chez les patients Post COVID-19
T. Tran Quoc
Study on sleep apnea syndrome in heart failure patients
Étude sur le syndrome d'apnée du sommeil chez les patients insuffisants cardiaques
T. Hoang Anh, Q. Duong Minh,N. Dam Trung, N. Nguyen Thi Y
Prevalence and predictive indexes of nocturnal oxygen desaturation in patients with chronic obstructive pulmonary disease
Prévalence et indices prédictifs de la désaturation nocturne en oxygène chez les patients atteints de maladie pulmonaire obstructive chronique
T. Minh-Huy, B. Khac Le
Screening OSA in Primary Care Setting Followed the Principles of Family Medicine
Le dépistage de l'AOS en milieu de soins primaires a suivi les principes de la médecine familiale
V. Nguyen Nhu
Atopic dermatitis & sleep disturbance: a 2 – way relationship
Dermatite atopique & troubles du sommeil : une relation à deux voies
T. Trinh Hoang Kim
Efficacy of acupuncture method combined with Quy Ty Thang in the treatment of insomnia without damage
Efficacité de la méthode d'acupuncture associée au Quy Ty Thang dans le traitement de l'insomnie sans dommage.
H. Le Thi
Sleep medications: pharmacokinetic and interaction
Médicaments pour le sommeil : pharmacocinétique et interaction
Q. Doan Truc
Monitoring positive pressure treatment in sleeping operational patients: clinical case of osa
Surveillance du traitement par pression positive chez les patients opérationnels dormants : cas clinique de saos
T. Ngo Nguyen Hai
Sleep disturbance in patients with bipolar disorder
Troubles du sommeil chez les patients atteints de trouble bipolaire
T. Nguyen Dao Uyen
Access to diagnostics and treatment of insomnia according to traditional medicine
Accès au diagnostic et au traitement de l'insomnie selon la médecine traditionnelle
B. Nguyen My
Characteristics and predictors factors of sleep apnea in people with Down syndrome
Caractéristiques et facteurs prédictifs de l'apnée du sommeil chez les personnes atteintes du syndrome de Down
T. Nguyen Duy
Effect of continuous positive airway pressure on patients with comorbid obstructive sleep apnea and metabolic syndrome in hai phong university hospital
Effet de la pression respiratoire positive continue sur les patients avec apnée obstructive du sommeil comorbide et syndrome métabolique à l'hôpital universitaire de hai phong
L. Nguyen Thi Hong, L. Pham Van
Sleep disorders and stress among students at the Pham Ngoc Thach medical university
Troubles du sommeil et stress chez les étudiants de la faculté de médecine Pham Ngoc Thach
S. Tran Duc, H. Nguyen Thai, P. Tran Cao Thinh
A case of sleep disturbance in an obese patient with sleep apnea
Un cas de troubles du sommeil chez un patient obèse souffrant d'apnée du sommeil
T. Le Tu Quoc
The role of melatonin in sleep disorders in patients with systemic lupus erythematosus
Le rôle de la mélatonine dans les troubles du sommeil chez les patients atteints de lupus érythémateux disséminé
D. Van Bui
An approach to the diagnosis and treatment of Obstructive sleep apnea and hypertension
Une approche du diagnostic et du traitement des Apnée obstructive du sommeil et hypertension
T. Nguyen Ngoc Phuong
Rôle du sommeil pour la mémoire
D. Hoang Chau Bao
Diagnosis of sleep apnea : at the lab or at home?
Diagnostic de l'apnee du sommeil : au labo ou a domicile ?
K. Bui Diem
Cognitive-behavioral therapy for patients with insomnia
Thérapie cognitivo-comportementale pour les patients souffrant d'insomnie
K. Bui Diem
Approach to management of obesity in OSA: Current Clinical Reality
Approche de la prise en charge de l'obésité dans le SAOS : réalité clinique actuelle
B. Le Khac
Approach to diagnosis of OSA on patients with COPD: Challenges and Solutions
Approche du diagnostic de l'AOS chez les patients atteints de BPCO: défis et solutions
B. Le Khac
The role of melatonin in sleep disorders in patients with systemic lupus erythematosus
Le rôle de la mélatonine dans les troubles du sommeil chez les patients atteints de lupus érythémateux disséminé
D. Van Bui
Optimization of Non-Invasive Ventilation setting in OSA co-morbid with COPD
Optimisation du réglage de la ventilation non invasive dans le SAOS co-morbide avec la MPOC
B. Le Khac
Literature review on sleep disturbances in patients after solid organ transplantation
Revue de la littérature sur les troubles du sommeil chez les patients après transplantation d'organe solide
A. Nguyen Thi Hong
Mandibular interventions in the management of OSA
Interventions mandibulaires dans la prise en charge du SAOS
C. Ho Nguyen Thanh
Asthma, COPD and OSA management: ACOCUOS model
Gestion de l'asthme, de la BPCO et du SAOS: modèle ACOCUOS
T. Vo Pham Minh , Q. Tran Xuan